Arnold "Arnie" Silva is the Administrator of the Federal Emergency Management Agency (FEMA).
Biography
Silva is regarded as the most competent Administrator FEMA could have by many people. He previously served under the administrations of three former Presidents, including Garrett Walker. Frank Underwood refers to him as 'the only man who could prevent a disaster becoming a catastrophe'.
Season 3
Frank Underwood meets with Silva to discuss the use of the FEMA Disaster Relief Fund to fund America Works, as he believes the Stafford Act allows him to declare unemployment as an emergency. Silva objects, citing how only $3 billion remains in the DRF. He also argues that with hurricane season approaching it would be unwise to re-allocate the money as it would take too long for Congress to reimburse the fund if a disaster struck.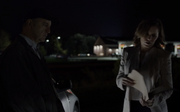 Underwood
then threatens Silva with terminating his employment and assigning somebody far less competent to his position. Silva begrudgingly accepts Underwood's demands, but later meets with
Kate Baldwin
; providing her with information showing the potential consequences Underwood's draining of the
DRF
would have if a natural disaster occurred. He is later seen in the
America Works
recruitment tent on the Washington Mall, aiding unemployed residents in signing up for jobs.
Eventually, while Hurricane Faith is brewing off the east coast of the country, Arnold is among those present in the situation room where he demands the President's cooperation on replenishing the FEMA disaster relief fund. He later attends the next cabinet meeting as well, where he once again implores Underwood to at least consider signing the bill proposed by Congress.
Community content is available under
CC-BY-SA
unless otherwise noted.