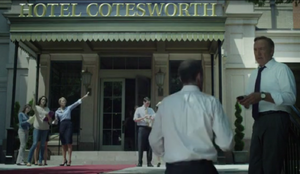 The
CWI
Charity Gala was a fundraising event, organized at the Hotel Cotesworth and managed by CWI's CEO,
Claire Underwood
, appearing in
Chapter 5
. It's purpose was to find new fundraisers and collect new funds for the
Clean Water Initiative
, because of rejection
SanCorp
's funds of $1.5M. There were 41 U.S. Congress Representatives and others invited (most noticeable
Adam Galloway
, the Holburns and
Barney Hull
). At the end of the event, about $750,000 of funds were collected, which is half of the funds, that were offered by SanCorp, but $250,000 more than it was planned.
Fundraisers
Adam Galloway - gave his photographs, which where sold on the gala auction for $80,000
Charles and Felicity Holburn - gave two checks, one worth $XX,000 and the other one worth $60,000
Unknown fundraisers, who were at the CWI Charity Gala event
Involvement of Teacher's Union
Marty Spinnela, the AFT spokesperson, who was enraged because of changes to the Education bill, organized a 200-people-strike (where not all of them were teachers) and prevented that the CWI Charity Gala was organized in the rooms of Hotel Cotesworth. Despite the obstacles, the Gala was organized with the help of Frank's and CWI's employees in front of the hotel and the teacher strike was ended by Frank and Claire, who gave the initiative for handing out food to the protesters who were criticized by the media for "choosing ribs over rhetoric".
Community content is available under
CC-BY-SA
unless otherwise noted.