Chapter 14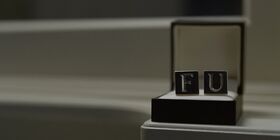 ---
---
---
---
| | |
| --- | --- |
| Original airdate | February 14, 2014 |
---
---
---
---
---
Gallery
The Underwoods tackle two threats that could bring their plans to ruin. Francis grooms his replacement as Whip. Claire goes on the offensive.
Plot summary
Claire undertakes making a comeback to fight off the attacks of Gillian, and promptly puts her in her place. Zoe Barnes is dealt with, but in a manner only Francis Underwood could craft - Francis asks to meet Barnes once again at a train station. While the meeting place is far more public, the imminent Vice President is in disguise and hides behind a fenced structure. There, Zoe and Francis agree on the "fresh start" and she deletes all past text messages and contact information. Still, she continues to inquire about Russo's death and reveals her knowledge of some key details, including Rachel Posner. Francis now knows that despite their "fresh start," Zoe's in-depth knowledge of a number of details is a threat; he lures Zoe into running after him and waits for her to turn the corner. To Zoe's surprise, Francis is there waiting for her, and he pushes the helpless Zoe in front of an oncoming train. The calculated locale of the murder as well as the deleted contact information ensure that the death appears to be an accident.
Credits
The following characters appeared in this chapter.
Main Characters
Recurring Characters
Reception
The episode was acclaimed by both viewers and critics, who praised the unsuspecting event of the episode's concluding act as well as plot and character development. Underwood's concluding monologue was also deemed as "riveting" by critics. At the 66th Primetime Emmy Awards in August 2014, director Carl Franklin and writer Beau Willimon were nominated for the awards for Outstanding Directing for a Drama Series and Outstanding Writing for a Drama Series, respectively, for their contributions to the episode.
Trivia
Frank does not "break the fourth wall" until the end of this episode. He assures the viewers that he has not forgotten about us.
The scene where Zoe was killed was filmed at the Shot Tower/Market Place Subway station in Baltimore Maryland.