"One heartbeat away from the Presidency and not a single vote cast in my name. Democracy is so overrated."
— Frank Underwood after his inauguration as Vice President.
Chapter 15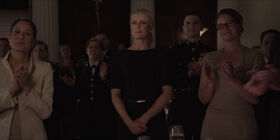 ---
---
---
---
Original airdate
February 14, 2014
---
---
---
---
---
Francis puts China in the cross-hairs. Claire confronts a painful trauma from her past. Lucas Goodwin presses for the truth.
Plot summary
Frank takes office while his home is upgraded with security features. Meanwhile, Secretary of State Catherine Durant's team bungles a trade meeting with China in a deliberate effort by Frank to frustrate billionaire Raymond Tusk and loosen his influence on President Walker. As rivals negotiate to thwart her, Jackie maneuvers to strengthen her race for House Majority Whip, eventually securing the position by destroying her mentor's career. Lucas looks for a hacker on the Deep Web to access Frank's phone records and establish a connection between him and the deaths of Zoe and Russo. He also contacts his former boss Tom Hammerschmidt, who tries to convince him to stop his investigations. Frank struggles to keep his composure at a military ceremony when Claire informs him she was once raped by a newly commissioned general, Dalton McGinnis. He later convinces the president to stand tough against China in the wake of the trade talk debacle, with China subsequently cutting off talks with the United States permanently. 
Credits
The following characters appeared in this chapter.
Main Characters
Recurring Characters
Minor Characters