Chapter 17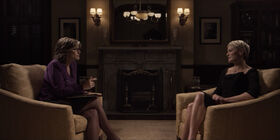 ---
---
---
---
Original airdate
February 14, 2014
---
---
---
---
---
A terror scare at the Capitol traps Francis with a resentful Donald Blythe. Claire gives a live interview that rocks the media.
Plot summary
Before the Underwoods have their first major media interview, Frank Underwood attempts to secure the last votes he needs to pass the entitlement amendment in the House by negotiating with Donald Blythe, who still holds a grudge against Frank because of the education bill. Frank and Blythe end up getting quarantined inside the Capitol when a package containing white powder is received. Frank takes the time to try and convince Donald to help him, even going so far as using Donald's wife's illness in his favor.
Doing the interview alone, Claire is pressured into revealing she once had an abortion, and lies that the pregnancy was a result of her rape by General McGinnis. She and her PR person are surprised when her confession is supported by a woman who was assaulted by him as well. Back with Lucas Goodwin, his hacker Gavin Orsay is revealed to be an FBI informant, luring the former into committing cyber-terrorism. Once Lucas is caught, he is arrested and all of his suspicions towards the Underwoods are discredited.
Jackie Sharp and Remy Danton meanwhile try to help Frank lobby for votes to avoid the government shutdown. The entitlement amendment narrowly passes thanks to Jackie and the chapter ends with Frank and Claire enjoying a smoke at their window as Frank sings the murder ballad "Pretty Polly" for her.
Credits
The following characters appeared in this chapter.
Main Characters
Recurring Characters
Minor Characters
Trivia