Chapter 18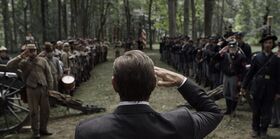 ---
---
---
---
| | |
| --- | --- |
| Original airdate | February 14, 2014 |
---
---
---
---
---
Gallery
Francis back-channels with a Chinese billionaire. Lucas uses extreme measures to expose the Vice President. A shadowy figure joins team Underwood.
Plot summary
While attending a civil war reenactment, Frank Underwood tries to hold back-channel trade negotiations with Xander Feng over a proposed bridge over Long Island Sound. Feng is a wealthy Chinese businessman with ties to Raymond Tusk, and Frank discovers that Feng and Tusk are manipulating a trade summit to secure greater profits for themselves and to strengthen their refinery projects. Frank retaliates by sabotaging the entire summit with miscommunication and assorting blame to Feng.
In doing so, he drives a wedge between Tusk and Garrett Walker. The President then orders the U.S. delegation to withdraw from the summit and risks initiating a trade war. Lucas Goodwin goes to the extreme to seek justice, but walks right into a trap the FBI had set for him on Doug's behalf and is taken away. Meanwhile, Seth Grayson extorts Claire after learning that her abortion actually had nothing to do with her rape by McGinnis. This power play successfully gains him a position on the Underwoods' staff. He then begins helping Claire who, with support from First Lady Patricia Walker, is advocating with military officials for sexual assault victims.
Credits
The following characters appeared in this chapter.
Main Characters
Recurring Characters
Trivia
Lieutenant General James Longstreet was shot by friendly fire almost on the same ground (a mere four miles away) that his former counterpart, Lieutenant General Thomas Jackson was also hit by friendly fire. Shot through the throat and shoulder Longstreet survived though he never regained the use of his right arm. Francis was wrong Longstreet was shot before sunset at the Battle of the Wilderness which preceded Spotsylvania.  http://www.civilwar.org/education/history/biographies/james-longstreet.html