Chapter 19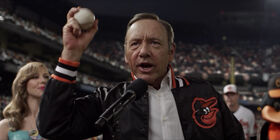 ---
---
---
---
Original airdate
February 14, 2014
---
---
---
---
---
Chapter 19 is the six episode of the second season, as well as the nineteenth episode of the series in general. It aired on February 14, 2014, along with the rest of season two.
Synopsis
Amidst an energy crisis, Francis and Tusk end their shaky alliance. Lucas must make a difficult choice. Stamper grows closer to Rachel.
Summary
As Frank Underwood helps the President deal with an energy crisis brought about by a Chinese trade blockade thanks to Xander Feng and Raymond Tusk, Claire manipulates Tricia into believing Christina Gallagher is interested in the president. Frank proposes establishing a subsidy for nuclear power as part of a plan to wait out the trade blockade, but his suggestion puts him even more on Tusk's bad side.
Meanwhile, Doug is pressuring Rachel to stop seeing Lisa and to stop attending church. His reasoning is that she needs to stay low, but it appears he is getting too close and too emotionally involved. Tom Hammerschmidt visits his former employee Lucas in prison and takes over his research, but Frank and Doug stonewall the continued investigation by intimidating Janine Skorsky and forcing Lucas to accept a plea deal.
Elsewhere, Jackie and Remy meet on legislation to pressure Tusk into cooperating with the strategy but end up sleeping together. Jackie tries to remain indifferent by saying she doesn't want a relationship and leaves soon after. Remy meanwhile realizes Tusk is going to fight the President's legislation, but Frank tells Walker to stand firm. As Frank prepares to throw the ceremonial first pitch at Camden Yards, Tusk's utility shuts off the power.
In retaliation, Frank encourages Walker to seize Tusk's power plants, which then leads Frank and Tusk to meet at Freddy Hayes's restaurant, Freddy's BBQ Joint, but the two are unable to reconcile.
Credits
The following characters appeared in this chapter.
Main Characters
Recurring Characters
Minor Characters