Chapter 20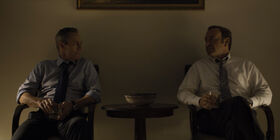 ---
---
---
---
Original airdate
February 14, 2014
---
---
---
---
---
Despite some friction, the Walkers deepen their friendship with the Underwoods. But it's all-out war between Francis and Tusk.
Plot summary
The Democrats face mid-term problems when new attack ads are released, forcing Frank and Doug to try to influence financial supporters. President Walker and his wife Patricia Walker head to the Underwood's for dinner. Patricia starts to become jealous over how close her husband and Christina Gallagher are. Claire looks for co-sponsors for her bill to investigate and prosecute sexual assault in the military. Remy asks Jackie where they stand, and it is revealed Seth Grayson is working for Remy, who turns on Remy to work for Frank. Doug meets with Xander Feng to try to get him to turn on Raymond Tusk. Freddy is interviewed regarding his relationship with Frank.
Credits
The following characters appeared in this chapter.
Main Characters
Recurring Characters
Minor Characters
"Tammy," played by Tanis Parenteau. Tammy is the waitress at the Indian gaming casino who discovers that Doug Stamper's drinking a club soda. She correctly determines that he's an AA member, as is she. The connection leads to a one-night stand that has larger implications than it would seem to have. It turns out that Doug was photographed while there at the casino, and the photos are used to prove a connection between President Walker and the Chinese investor seeking to influence the office with money; an impeachable offense. (See: Tanis Parenteau: "Tammy" In House Of Cards Season 2: Doug Stamper's Lover .) 
Trivia