Chapter 21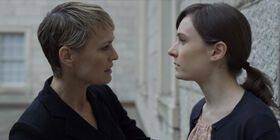 ---
---
---
---
Original airdate
February 14, 2014
---
---
---
---
---
The war with Tusk intensifies. Claire influences Tricia Walker politically and domestically. Francis has a show-down with Linda Vasquez.
Plot summary
Frank lobbies Linda Vasquez and Garrett Walker for the bridge proposal. Elsewhere, Claire Underwood vows to stand behind the McGinnis accuser Megan Hennessey, but then she learns that Tricia is estranged from the president. At Claire's suggestion, Tricia decides to pursue marriage counseling. Frank and Linda clash over the bridge proposal, which leads to an argument and Linda's subsequent resignation, but Walker ends up committing to Frank's bridge deal and to marriage counseling with Tricia.
While helping Jackie Sharp investigate the casino money trail, Remy tracks down Adam Galloway, Claire's ex. In the process, Remy also figures out that Seth Grayson has sold him out and has gone over to the Underwoods.
Frank meets with Lanagin and Tusk, who offers Democratic funding in exchange for helping Tusk reconcile with Walker. Frank has Doug arrange a meeting between Tusk and Walker, but then Doug confirms with Feng that the bridge deal is approved and asks him to shun Tusk. Learning that the refinery project is dead, Remy and Tusk decide to get aggressive with Frank. Meanwhile, Rachel Posner and her friend Lisa Williams become intimate unbeknownst to Doug for now.
Credits
The following characters appeared in this chapter.
Main Characters
Recurring Characters
Minor Characters
Trivia