Chapter 22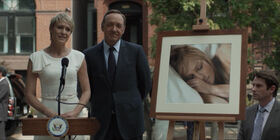 ---
---
---
---
Original airdate
February 14, 2014
---
---
---
---
---
Chapter 22 is the ninth episode of the second season, as well as the twenty-second episode of the series in general. It aired on February 14, 2014, along with the rest of season two.
Synopsis
Things get personal when Tusk blindsides the Underwoods with a scandal. Freddy and his BBQ joint get caught up in the mix.
Summary
The chapter starts with a scandalous photo of Claire and Adam Galloway "mysteriously" leaked to the press, which leads to the Underwoods strategizing with Doug and Grayson on how to deal with it. Claire is able to convince Galloway to deny their affair and they explain the photo as personal shots taken for Frank, but Remy Danton then coerces the photographer into releasing another photo, this one of Claire in the shower. Grayson then attempts to discredit the second photo of Claire by producing a replica with a look-alike model.
Meanwhile, after selling his restaurant, Freddy Hayes offers to buy his son, Darnell Hayes, and grandson, Deshawn Hayes a new house. Eventually his son accepts and begins working for Freddy at the BBQ restaurant. Once Remy sees that the Underwoods are willing to do anything, he reveals Freddy's criminal past to the press to further pressure the Underwoods. Frank attempts to protect Freddy, but then Darnell violates his parole by threatening a photographer with a gun.
When Frank realizes the scale of Freddy's problems, he is forced to distance himself, leaving his friend behind. Adam then explains to the press that he released the second photo because of a threat to his fiancée, Inez, but, after more pressure from Claire, Galloway makes a statement claiming that the whole thing was a publicity stunt on his part. Frank's friend Freddy is forced to sell his restaurant to pay his son's bail, and in the process loses his deal for a franchise. After it all, he renounces his friendship to Frank, and the latter feels true regret for the first time. Instead of making him change his ways, this invigorates Frank to retaliate even harder against Tusk.
At the other end of things, Raymond Tusk starts threatening the reporter Sayyad and tells her to stop investigating the ties between him and Xander Feng.
Credits
The following characters appeared in this chapter.
Main Characters
Recurring Characters
Minor Characters
Trivia
The death penalty was abolished in 1910 in Colombia. Inez's father couldn't have been sentenced to death in that country.