Chapter 24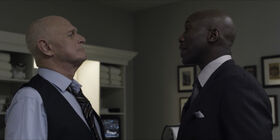 ---
---
---
---
| | |
| --- | --- |
| Original airdate | February 14, 2014 |
---
---
---
---
---
Gallery
A Special Prosecutor interrogates Francis. Remy Danton tries to keep his options open. Stamper wrestles with his demons.
Plot summary
At an AA meeting, Doug confesses his feelings for Rachel, and Lanagin accuses Remy Danton of using him to save Tusk. Later, a photo of Doug at Lanagin's casino is found and Frank scolds Doug for involving him in the scandal since everyone knows Doug is his assistant. Seeing their unfriendly relationship as detrimental to the Underwoods' reputation, Doug and Seth Grayson attempt to mend their relationship for the good of the couple and then make a plan of attack to quiet the scandal.
Frank encourages the President to be open with Heather Dunbar, the special prosecutor handling the case, but stonewalls Dunbar himself. He eventually turns over his travel logs, but is later contacted by Remy who proposes a deal to decrease his attacks on Frank's reputation to protect Jackie from involvement. Remy had tried to pressure Jackie to implicate Frank in the scandal by threatening to leak the circumstances of her rise to the Whip position, but has to try another method when she refuses to be manipulated.
Without support for her bill draft from Jackie Sharp or Tricia, Claire encourages Megan Hennessey to go public with her story, but the latter suffers from severe panic attacks at just the thought of public speaking. Seeing her project unravel before her eyes, Claire resorts to drinking alone, but drops a glass. Edward Meechum, whose shift is ending, tries to clean up for her but accidentally cuts his hand and she bandages him. Frank then returns home to a drunk Meechum and Claire, and they end up engaging in a threesome.
The chapter ends with Doug spying on Rachel Posner and seeing her and her new friend/roommate Lisa have sex. While going through the travel logs, Dunbar finds President Walker's marital counseling sessions with his wife.
Memorable Quotes
Frank-to-viewer: "When you're fresh meat, kill, then throw them something fresher." - on the threats of the special investigator who has revealed the evidence of Doug at Lannigan's Casino.
Frank: "We're not young men. If we fail, we die in a cage." - to Doug on his suspicions of his alcoholism returning. 

The following characters appeared in this chapter.
Main Characters
Recurring Characters
Minor Characters