Chapter 28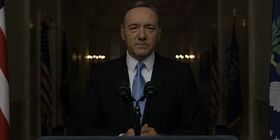 ---
---
---
---
| | |
| --- | --- |
| Original airdate | February 27, 2015 |
---
---
| | |
| --- | --- |
| Written by | John Mankiewicz |
---
| | |
| --- | --- |
| Directed by | John David Coles |
---
---
Gallery
Chapter 28 is the second episode of Season 3 of House of Cards. It aired on February 27, 2015, along with the rest of the third season.
Synopsis
Claire's U.N. bid runs into trouble. Frank fights off mutiny with a bold address to the country.
Summary
Claire appears before a Senate committee regarding her nomination for United States Ambassador to the United Nations at which she makes a casual comment which escalates into a heated argument leaving the committee with the impression that Claire is hot-headed and thus not fit to be the Ambassador.
Frank meets with the Democratic leadership to discuss "America Works", but instead, the leadership, including Jackie Sharp, tell him that they do not want him running for President in 2016. Remy Danton, on behalf of Frank, asks Jackie to give information about any talk regarding who will run on the Democratic ticket. In return and also in favor of whipping the votes for Walker's impeachment, Jackie wants to be Frank's Vice President when he runs for election in 2016.
Frank and Claire make several calls: Frank to get potential financial contributors for his 2016 campaign; Claire to Senators to sway their vote on her Ambassador nomination. Both are not very successful by the end of the night.
The next day, the Senate votes against Claire's nomination. Frank meets with the Democratic leadership and proposes that in return for not running in 2016, they will help Frank pass America Works. Frank finally announces more details of America Works publicly also stating that he does not intend to run for office in 2016, even though secretly, he intends to anyway. Claire decides to challenge her rejected nomination and asks for a recess appointment. Frank says he will give it to her.