Chapter 30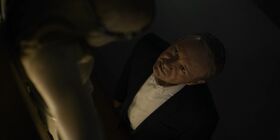 ---
---
---
---
Original airdate
February 27, 2015
---
---
---
---
---
Chapter 30 is the fourth episode of Season 3 of House of Cards. It aired on February 27, 2015, along with the rest of season three.
Synopsis
Claire bypasses Russia at the U.N. Frank tries to outmaneuver a potential challenger and ends up face to face with a higher power.
Summary
Heather Dunbar defends the government in a Supreme Court case regarding a soldier who was unintentionally injured (losing both his legs) in the drone airstrike Frank ordered.
Claire presents the Israeli resolution to the UN Security Council which fails since Russia, who is a permanent member, voted against it, as Claire expected.
One of the Supreme Court Justices, Jacobs, had been diagnosed with Alzheimer's and is thinking about retiring. Earlier, Frank had recommended him to stay on as long as possible. But having no other grounds to deter Dunbar from being the Democratic candidate for 2016, he offers her Jacobs' seat and she accepts.
Gavin continues to discreetly help Stamper find Rachel through his job at the FBI, but is nearly caught when he exceeds the bandwidth of the server. Since Stamper cannot provide any leads to help find her, Gavin suggests that he get to know Rachel's ex, Lisa Williams, himself. Russian authorities arrest Michael Corrigan, a gay rights activist, which is seen to be retaliation for the UN Israeli resolution.
Seth Grayson takes away Ayla Sayyad's credentials as White House Press after embarrassing the President at a press conference. Dunbar removes herself from consideration for the Supreme Court and officially announces her candidacy for President. Sensing that Frank is pushing him away, Stamper offers to work for Dunbar and her campaign.
Seeing the soldier who was injured in the airstrike's unwillingness to forgive him, making him more merciful towards Jacobs thus motivating Dunbar to run, Frank struggles with what justice really is and seeks religious guidance on the matter. He has a tense discussion with a bishop about power, God's love, forgiveness, and revenge. Frank asks to be left alone in the church to pray. Once alone, he proceeds to verbally reject Jesus and spit on the crucifix behind the altar. When he tries to wipe the spit away, the crucifix falls and shatters.
Credits