Chapter 33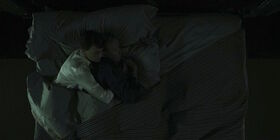 ---
---
---
---
Original airdate
February 27, 2015
---
---
---
---
---
Chapter 33 is the seventh episode of Season 3 of House of Cards. It originally aired on February 27, 2015, along with the rest of the third season.
Synopsis
The damage is done and the Underwoods must repair it. But deep wounds don't heal fast, and sometimes not at all.
Summary
Frank and Claire renew their marriage vows in Gaffney.
One month earlier, tensions between the two following the botched Moscow visit worsen. Back in Washington, Claire vows to get the Jordan Valley peacekeeping resolution through the UN General Assembly, which is being hampered by Israeli interference. Tibetan Buddhist monks arrive as part of a cultural exchange; they begin to construct an intricate sand mandala within the White House.
Republicans in Congress threaten to amend the Stafford Act to prevent the appropriation of FEMA funds to the America Works project. Frank accuses Claire of "recoiling" during a photo portrait shoot; the pair's situation continues to deteriorate.
A month ahead, Frank and Thomas Yates visit Frank's childhood home, now the site of a quarry; the two became fast friends following a late-night drinking session in the White House residence.
Gavin and Stamper meet, Gavin having located Rachel in Santa Fe, New Mexico. Stamper, still obsessed with Rachel, rendezvouses with his physical therapist, who soon leaves town.
At the White House, Frank issues a firm statement in support of America Works on the anniversary of the New Deal. He visits the FDR Memorial and is impacted by the fact that the statues of Eleanor and Franklin Roosevelt are separated by a large stone wall. He shares this fact with Claire back in the residence and gives her authority to promise aid money to Zimbabwe, thereby enabling the peace resolution to pass the General Assembly in spite of Israel's opposition. The two begin to heal their relationship.
Back in Gaffney, Frank and Yates visit the Underwoods' home. Yates reveals that he is not the true author of his first successful novel, but took all the credit for it. In return, Frank reveals to him that he never felt he was good enough for Claire. The Tibetan monks complete and destroy their sand mandala, a picture of which Frank gives to Claire, along with a note: "Nothing is forever—except us". Claire returns to Frank's bedroom in the White House residence, and the two fall asleep, embracing each other.
Credits