Chapter 34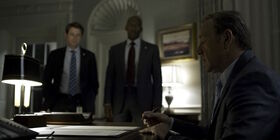 ---
---
---
---
| | |
| --- | --- |
| Original airdate | February 27, 2015 |
---
---
---
---
---
Gallery
Chapter 34 is the eighth episode of Season 3 of House of Cards. It originally aired on February 27, 2015, along with the rest of the third season.
Synopsis
A hurricane named Faith endangers more than just the entire East Coast and Frank must make a difficult choice.
Summary
A potentially devastating hurricane threatens the East Coast of the United States. Frank faces intense pressure from FEMA, Congress, and several governors; having defunded the Disaster Relief Fund (DRF) to pay for the America Works trial in D.C., the President now faces the possibility of thousands of deaths due to lack of a sufficient response by the federal government.
Senate and House leaders demand the President sign a bill preventing the future appropriation of funds to AmWorks. In return, the DRF will be replenished ahead of the hurricane's landfall.
In Iowa, Heather Dunbar continues her presidential campaign. She is told by Doug to meet with fellow candidate Jackie Sharp regarding the hurricane. Dunbar complies, and convinces Sharp to suspend her campaign for the duration of the natural disaster, much to Frank's chagrin.
Claire's peacekeeping resolution having been passed, Frank decides, without Congressional support, to deploy American troops to the Jordan Valley. Yates delivers the prologue of his new novel to Frank, aware of the fact that if AmWorks is defunded, he will be out of a job. Freddy, now employed via AmWorks, comes to Frank's attention. The President invites him to the White House and offers him a job as a groundskeeper.
In the eleventh hour, seeing no alternative, Frank signs the bill, replenishing the DRF ahead of the hurricane, but effectively shutting down the America Works program. Yates and journalist Kate Baldwin begin a relationship.
Claire informs Frank that the Russians have decided to commit troops to the Jordan Valley. The hurricane avoids landfall. Frank calls Yates to the Oval Office, and tells him he will stay on; the President wants to show with the world that he "refuses to see the impossible as impossible." In spite of the AmWorks setback, Underwood will seek a second term as President of the United States.
Credits