Chapter 36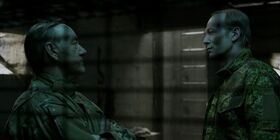 ---
---
---
---
| | |
| --- | --- |
| Original airdate | February 27, 2015 |
---
---
---
| | |
| --- | --- |
| Directed by | Agnieszka Holland |
---
---
Gallery
Chapter 36 is the tenth episode of Season 3 of House of Cards. It aired on February 27, 2015, along with the rest of the third season.
Synopsis
Frank needs to deal with Petrov one on one while Claire tries to preserve the peace-keeping mission. Sacrifices must be made.
Summary
Claire tries to negotiate a de-escalation between Israelis and Palestinians, while Israel institutes a no-fly zone. Frank gets confronted about the Jordan Valley mission while campaigning. He wants Jackie to postpone the debate until the Jordan Valley crisis is over. Jackie has doubts about the presidential run, while her husband encourages her.
Stamper asks for his brother's family to visit. Yates reaches out to Tim Corbet to learn more about Frank's past, and asks Claire to meet to hear her part of the story.
Frank decides to meet Petrov in Jordan Valley, as he needs a fast resolution of the crisis or his chance of winning in Iowa are jeopardized. He tells Claire her peace plan is dead. Petrov demands to both dismantle the peacekeeping mission and to make concessions on missile defense, knowing Frank's position is weak. He also demands that Claire should be removed as the ambassador, bragging about how easily he manipulated her into believing Petrov was behind the explosion. Frank has no choice but to comply.
Frank admits to Claire meeting Petrov was a mistake. Gavin visits Lisa at home and admits his deceptions to her, telling her he is leaving and giving her Stamper's contact in case FBI comes looking for him. He leaves her his guinea pig.
Frank meets Yates for late night drinks. Yates reminisces about his past as a male prostitute. They share an intimate moment when Frank seems to be attracted to Yates but then sends him home. Claire is asked to change her image to help Frank's campaign. She agrees to do what she has to do.
Credits