Chapter 37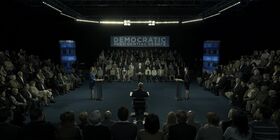 ---
---
---
---
| | |
| --- | --- |
| Original airdate | February 27, 2015 |
---
---
| | |
| --- | --- |
| Written by | Melissa James Gibson |
---
| | |
| --- | --- |
| Directed by | Agnieszka Holland |
---
---
Gallery
Chapter 37 is the eleventh episode of Season 3 of House of Cards. It aired on February 27, 2015, along with the rest of the third season.
Synopsis
Things turn ugly when Frank, Jackie, and Heather square off during their first debate. Tom joins Claire on the campaign trail.
Summary
Claire campaigns on Frank's behalf. Frank prepares for the debate ahead, and Jackie is uncomfortable with Frank's debate strategy, but ultimately agrees to do what Frank wants. Yates tries to talk to Claire but she repeatedly declines.
Gavin admits to Stamper that Rachel is not dead and offers to provide her location in exchange for the freedom for Gavin's friend. Stamper is tempted to get drunk again but manages to stop himself. His brother goes back home.
Jackie proposes Dunbar to join forces against Underwood, but Dunbar refuses to promise any position to Jackie and the deal falls through.
During the debate, Jackie attacks Dunbar along the lines prescribed by Frank. Frank, however, brings Jackie's family into the debate. Jackie is very upset, but it makes Frank the winner of the debate. Jackie later confronts Frank about the debate but Frank forcefully refuses to make any concessions.
Yates finally manages to have a conversation with Claire while she donates blood. She tells him she re-evaluates her marriage with Frank every seven years and she hates the loss of freedom. She passes out and Yates calls Frank.
Remy talks to Frank about Jackie's concerns, but Frank ignores them. Jackie drops out and endorses Dunbar for president, after which Remy resigns too. Frank changes his schedule to join Claire on the campaign.
Credits
Trivia
This episode takes place on December 16 and 17, 2015.