Chapter 38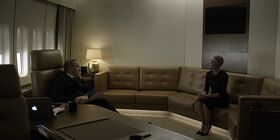 ---
---
---
---
| | |
| --- | --- |
| Original airdate | February 27, 2015 |
---
---
---
---
---
Gallery
Chapter 38 is the twelfth episode of Season 3 of House of Cards. It aired on February 27, 2015, along with the rest of the third season.
Synopsis
Heather Dunbar goes for the jugular, forcing Claire to confront her worst fears. The rift between Frank and Claire widens.
Summary
Dunbar is leading Frank in the polls. Frank asks Claire to take more active role in the campaign since the public likes her more than Frank. Seth Grayson asks for the Chief of Staff job. Robert Jacobs meets with Dunbar and asks her to replace him as a Supreme Court Justice, but she refuses. Jacobs retires anyway.
Yates sends Frank the first chapter of the book, which turns out to be about Frank and Claire and their marriage. They are afraid it reveals too much and Frank decides to abandon the book, and threatens Yates not to publish anything. Yates takes it to Kate Baldwin but she does not want anything to do with this story.
Jackie offers Remy a job, but Remy decides to retire from politics. Jackie admits she still has feelings for Remy and they resume their relationship.
Dunbar decides to use Stamper's information against Claire and offers two million dollars for it. She meets with Frank and demands that he drop out in three days. Frank declares Dunbar is now "one of us."
Frank tracks down Stamper and Stamper returns the journal and burns the page which had the information about Claire's abortion. Stamper asks to be appointed the new Chief of Staff and Frank agrees. Stamper then uses his contacts to locate Gavin. Frank claims in the interview it was Claire's decision to leave the ambassadorship, and Claire takes issue with that and with the lies they tell to each other.
Credits