Chapter 47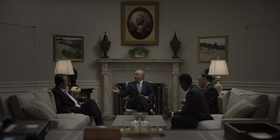 ---
---
---
---
Original airdate
March 4, 2016
---
---
---
---
---
Chapter 47 is the eighth episode of Season 4 of House of Cards. It aired on March 4, 2016, along with the rest of season 4.
Synopsis
Claire and Frank are back together and working to achieve the bigger goal; Frank starts his search for a running mate and begins a campaign to weaken Conway.
Summary
The Conways talk to Yates about publishing his book on the Underwoods, and they offer publicity through their connections at Vanity Fair. Later, Claire meets with Yates, and in exchange for speech writing service, she offers to bring him back on staff to let him finish the book the way he wants to. He agrees to the Underwoods' offer.
Frank meets with Dean Austin of Ohio, the Democratic party's top pick for his running mate. Meanwhile, Aidan secretly passes information to LeAnn, and she in turn anonymously delivers a quarter million names and phone numbers to the gun control lobby. Claire records an emotional plea for gun control, asking people to call their senators. Later, Claire tells Julia of the NRA that they coordinated eighty-four thousand calls to senators in less than 24 hours. Frank intimidates Austin into publicly supporting Claire's gun control bill which destroys his relationship with the NRA, and his chances at being VP.
Conway again pressures General Brockhart to resign; this time offering to make him his running mate if he does so. He agreed, and they arrange for him to have a photoshoot on Vanity Fair, and an exclusive interview Baldwin.
Hammerschmidt continues exploring Zoe's life, following Lucas' trail, and discovers that Meechum used to frequent a pizza place near Zoe's old apartment.
Credits