Chapter 55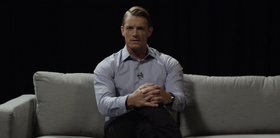 ---
---
---
---
Original airdate
May 30, 2017
---
---
---
---
---
Chapter 55 is the third episode of Season 5 of House of Cards. It originally aired on May 30, 2017, along with the rest of the fifth season.
Synopsis
The day before the election, Conway hold a 24-hour Skype session with voters, while Frank and Claire stump in key states and try to discredit him.
Summary
The day before the election, Conway is holding a 24 hour live Skype session between him and voters. Conway is asked a question by someone who knows him about his time in the military. Hannah Conway insists that Will is too humble to discuss his time in the military to get the question to end.
Claire and Frank, who is losing his voice, separately campaign in key states. At a campaign event in Pennsylvania, Frank and Claire campaign together. Claire insists that he stop campaigning to take care of his voice, but Frank says he cannot because Conway is running his mouth the entire day.
Doug confronts Governor Matthews, giving him an earful about not establishing voting centers or bringing in the National Guard, all promises he made in exchange for help with his slag heap. Doug tries to call his bluff and intimidate Matthews, but as he reports back to the president later, he doesn't believe they can rely on Matthews going forward.
Back in D.C., Cathy alerts Frank to a Syrian national with strong ICO connections named Mohammad Kalabi. However, this is too late for Frank as it is the day before the election, and Frank asks her if she had this information days ago.
That night, Claire and Frank chat in the executive residence beside a sleeping Tom Yates.
With Conway getting all the publicity, Frank calls into the 24-hour livestream and tells Conway that he can ask him any question he wants. Will responds by asking about why he was never given a chance to complete the mission and save Mr. Miller after successfully negotiating the release of his wife and daughter. Frank says that the terrorists could tell Conway was weak, meaning that Frank had to step in and take control.
As the sun rises, election day has finally arrived and Conway's live stream ends. Frank's last minute call grabs the morning headlines.
However, Frank and Claire, while watching "Double Indemnity" in the White House movie theater (an election ritual for them), are given worrying news: voter turnout is unsettlingly low across the country. Frank, however, insists that they are not going anywhere.