Chapter 62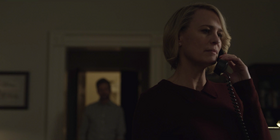 ---
---
---
---
Original airdate
May 30, 2017
---
---
---
---
---
Chapter 62 is the tenth episode of Season 5 of House of Cards. It aired on May 30, 2017, along with the rest of the fifth season.
Synopsis
The Underwoods and their team angle to undermine the revived committee investigating Frank. Hammerschmidt's investigation heats up.
Summary
As Frank discovers that Jackie Sharp will be testifying in front of the declaration of war committee, Claire is informed that the American from the Antarctic expedition froze to death. Claire wants the body to get lost in transit.
With Alex Romero heading the committee, Frank tries to get in Romero's good graces again by offering him party Whip. Romero, however, isn't interested anymore, and is not looking to negotiate. Meanwhile, Jackie Sharp will be pleading the fifth during her testimony.
LeAnn, after being fired from the White House, is concerned about the well being of Aidan Macallan, who isn't willing to reveal what he told the Russians. After talking to Jane Davis, it becomes clear that what is important is what exactly Aidan told the Russians.
Jane tells Claire and Frank that a gas attack is imminent in Homs, Syria. 30,000 American soldiers would be required to send in after the attack, but it would force the declaration of war committee to focus on that and not the Underwood investigation. When Frank and Claire tell Durant, she begins questioning the operation, and later voices her protest to Jane.
Doug confronts a frightened Lisa Williams. Afterwards, Lisa calls Hammerschmidt and tells him about the encounter.
LeAnn is confronted in a parking garage by Aidan, who is alive. The two share a close moment before he leaves.
Frank is informed that Garrett Walker will be testifying. Though he is expected to plead the fifth, tension arises when Frank and Walker meet before he testifies. Walker testifies and breaks his silence, revealing that Frank was the one who got Walker involved in the China/money dealings.
That night, LeAnn is given a voice recording, revealing that Aidan is dead. In his hotel room, he has been shot in the head. Meanwhile, Jane shreds files regarding the dead Antarctic worker and Aidan.
Community content is available under
CC-BY-SA
unless otherwise noted.