Chapter 63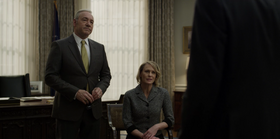 ---
---
---
---
Original airdate
May 30, 2017
---
---
---
---
---
Chapter 63 is the eleventh episode of Season 5 of House of Cards. It aired on May 30, 2017, along with the rest of the fifth season.
Synopsis
As the team tries to control fallout from damaging testimonies and leaks, everyone is under suspicion and tensions flare between Frank and Claire.
Summary
On MSNBC, Seth and Hammerschmidt debate the credibility of Garrett Walker in the wake of his groundbreaking testimony.
Frank, Claire, Doug, and Usher discuss impeachment and the idea of censure, which Frank and Doug oppose.
The next day, Hammerschmidt discovers leaked information: that the White House staged a terrorist attack on Election Day. Seth panics in his office while Frank discusses spying on all White House personnel to find out who the leak is.
LeAnn is told by the FBI that Aidan MacAllan was shot in the head and it looks like a suicide, but the gun is missing.
Meanwhile, Claire tells Tom that she wants him to leave.
Frank is confronted by Bob Birch and Terry Womack, who want Frank to consider the idea of resigning. Frank is speechless, partially because Womack himself is under investigation.
Doug is spying on all West Wing staffers, and is intrigued when LeAnn gets something unknown from Aidan. After confessing to Laura Moretti that he is the reason her husband died, Doug goes to LeAnn's apartment and the two have sex.
An article breaks the next day: that a source from within the White House confirmed that Frank used questionable intelligence to close voting centers on election day. Frank confronts Cathy about this, who is cooperating with Alex Romero.
Frank later states that he believes Cathy is the leak, and that he has held on to her resignation.
News breaks that Cathy will testify in front of the Declaration of War committee. Hammerschimdt is given a "birthday card" with a computer chip in it from an unknown source.
Community content is available under
CC-BY-SA
unless otherwise noted.