Chapter 68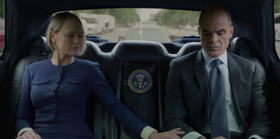 ---
---
---
---
Original airdate
November 2, 2018
---
---
---
---
---
Chapter 68 
is the third episode of 
Season 6
 of 
House of Cards
. It aired on November 2, 2018, along with the rest of the sixth season.
Synopsis
Judge Abruzzo is in the Oval Office and is considered for a position in the Supreme Court.
Claire is dissatisfied Bill Shepherd forced her to sign the Future Act.
Claire meets with Cathy Durant and Claire senses she is going to testify because BIll Shepherd influences Durant. Claire tasks Doug with preventing Durant's testimony.
Tom Hammerschmidt is frustrated Frank Underwood 's mysterious death is not researched. Duncan Shepherd visits Tom to deliver a threat. Tom meets with Doug who reveals that Cole is running for Speaker.
Mark Usher is romantically involved with Annette Shepherd .
Durant wants to meet Davis in a restaurant but instead Jane is waiting on her. Durant walks out.
Annette meets with Claire to persuade her to consider Abruzzo, Claire retaliates with information that Duncan has a "juvenile mugshot".
Claire has a flashback memory of her and Annette doing their ballet moves facing each other.  When they get to the lowest position, Annette passes a lit marijuana joint to Claire, causing them both to collapse in a fit of laughter.
Claire receives a phone call about an embolism that Durant had.
Appearances
Characters
Locations
Organizations and titles
Sentient species