Chapter 71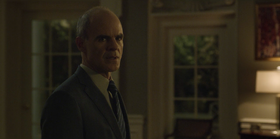 ---
---
---
---
Original airdate
November 2, 2018
---
---
---
---
---
Chapter 71 
is the sixth episode of 
Season 6
 of 
House of Cards
. It aired on November 2, 2018, along with the rest of the sixth season.
Synopsis
Claire makes a statement on TV about the abortion she had.
Doug meets Bill and Annette Shepherd. He is surprised to find Cole and Armrose there.
Kelsey is appointed as permanent press secretary even with allegations she was involved with Tom Yates and that they met in the vice-president's house.
Doug says that Skorsky will publish the story on Arcas which will cost the Shepherds billions.
Tom Hammerschmidt is killed in a purported robbery. Cathy Durant is shot by an unseen sniper while her husband rushes to her collapsed body. Mark Usher later finds Jane Davis dead.
Claire says that the pre-nuptial agreement would give the inheritance to children of Claire and Frank, she reveals that she is thus pregnant of Frank's child.
Appearances
Characters
Locations
Organizations and titles
Sentient species