Chapter 9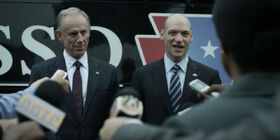 ---
---
---
---
Original airdate
February 1, 2013
---
---
---
---
---
Russo hits the road with V.P. Matthews. Francis and Stamper try to whip up support in Congress. Claire looks out for herself.
Plot summar
Claire drives Russo's kids to school. He is preparing for bus tour to campaign. Russo's kids tell Claire that the kids at school hate them and call them crack babies and accused his father of being a crackhead.
Credits
The following characters appeared in this chapter.
Main Characters
Recurring Characters
Trivia