The Washington Herald is a newspaper and news company located in Washington, D.C. It is owned by Margaret Tilden. 
Season 1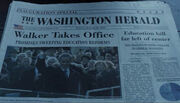 The Herald is introduced as the main newspaper in circulation in all of Washington, D.C.
Zoe Barnes worked for the Herald as a journalist, along with her colleague later boyfriend political editor Lucas Goodwin. Early in Season 1, Zoe resigns from the Herald to work for Slugline, a political news website. The Herald's White House Correspondent, Janine Skorsky, later does the same.
Leadership
Zoe Barnes argues with Editor in Chief Tom Hammerschmidt regarding bringing the newspaper into the 21st Century, and later resigns. The newspapers owner, Margaret Tilden expresses support for Barnes and fires Hammerschmidt, citing his refusal to adapt to changing times. Another man is later promoted to the position, though Janine mentions at one point that they weren't experienced or qualified for the job.
Season 2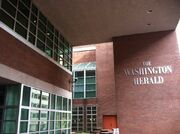 After the death of Zoe Barnes, Lucas Goodwin becomes the deputy editor and struggles to maintain his composure over seemingly being the only one concerned about her death.
Goodwin later provides hacktivist Gavin Orsay with the key to the Herald's intranet to show his dedication, manipulating the newspapers IT Administrator into relinquishing it. It is later revealed that Orsay already had access, but wanted Goodwin to prove he was being honest.
Lucas Goodwin's arrest
In Season 2, Lucas is entrapped into stealing data from AT&T servers in a plan orchestrated by Doug Stamper, Nathan Green and a reluctant Gavin Orsay. After his arrest and imprisonment, his reputation is tarnished and only Tom Hammerschmidt attempts to write about his side of the story.
Season 3
The Washington Herald is seen less throughout Season 3, but the occasional headline is seen.
Trivia
Community content is available under
CC-BY-SA
unless otherwise noted.